Honeywell H910 Foldable Masks 
Filters at least 95% of airborne particles. No resistance to oil.
Ear-loop design for faster donning and doffing
Fabric headband without staples which are comfortable to wear in hot and humid conditions
Nose foam for comfort with spectacles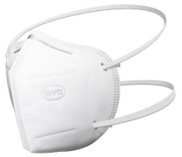 We are here to serve you!
In these challenging times our PPE inventory turns over extremely fast.  Please be sure to leave a message detailing the PPE items most important to you (ie. Level 1 or Level 2 gowns, FDA/CE or NIOSH certified or is CE certified ok, Quantity, etc.).  We will do our best to fill your orders in a timely manner.  Thank You!