Mask includes a 3 Layer design (Blue polypropylene spunbond nonwoven, Polypropylene melt-blown nonwoven with pathogen filtering, White polypropylene spunbond nonwoven) for healthcare, and essential workforce members to defend against the Covid-19 Virus.
Bacteria filtration
effectiveness ≥95%
Pressure difference
≤29.4 pa/m²
U.S FDA Standard: F2100-04
Europe CE Standard: EN14683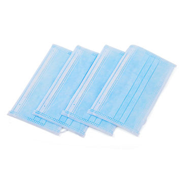 We are here to serve you!
In these challenging times our PPE inventory turns over extremely fast.  Please be sure to leave a message detailing the PPE items most important to you (ie. Level 1 or Level 2 gowns, FDA/CE or NIOSH certified or is CE certified ok, Quantity, etc.).  We will do our best to fill your orders in a timely manner.  Thank You!