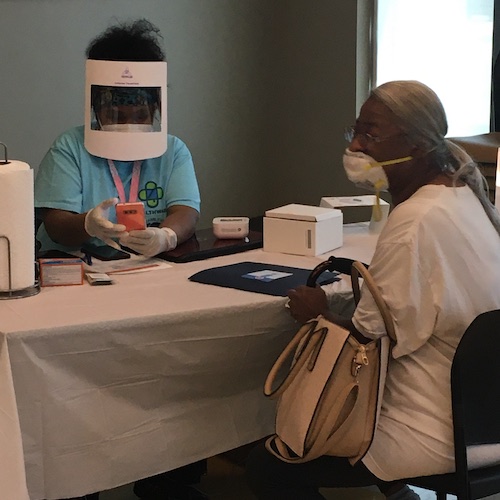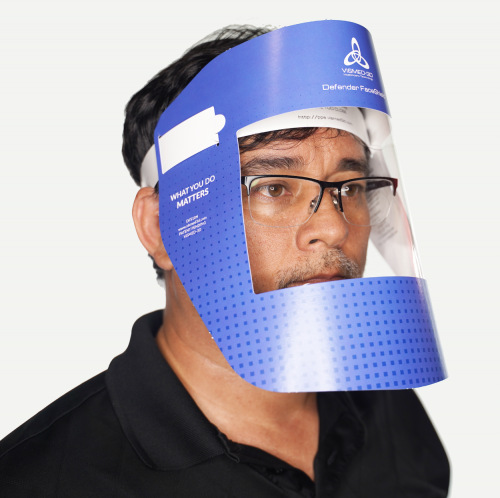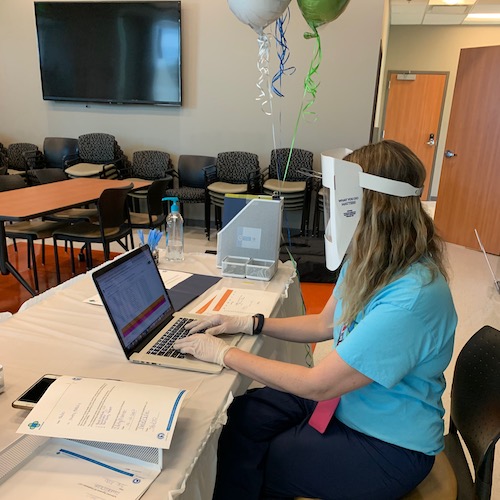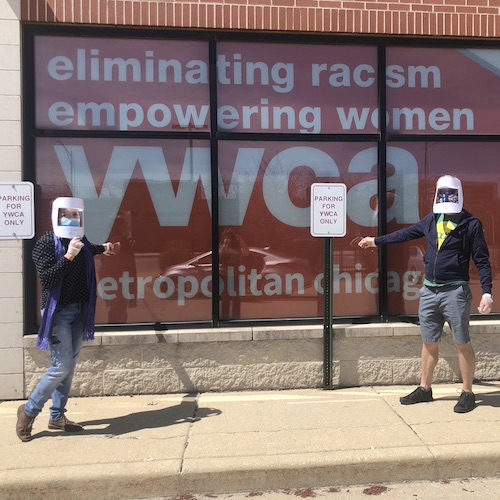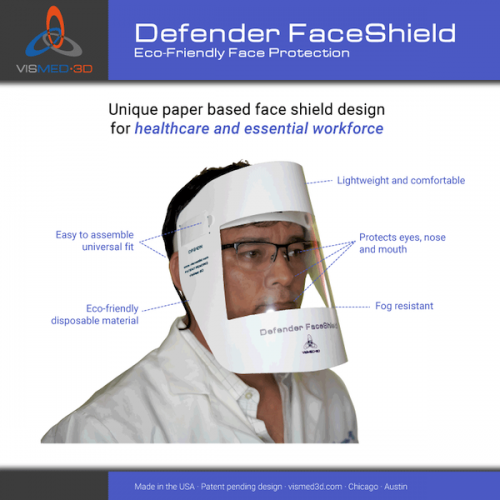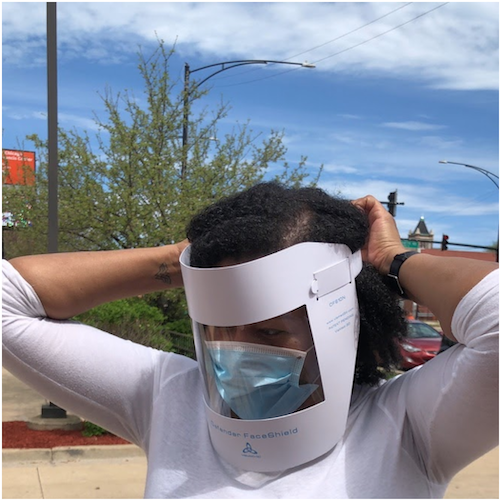 VIS

MED

•3D

Healthcare Technology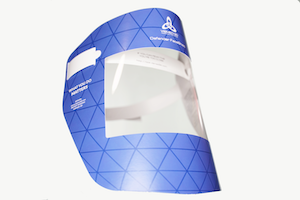 VisMed3D Defender Face Shield provides head and face protection in working environments to block wearer from sneezes, splashes, and coughs. It includes a ratcheting, adjustable head strap, and face shield. The mask is made of recyclable materials including cardstock with a large window of clear plastic for visibility.
3DP Edge FrameShield, 100/pack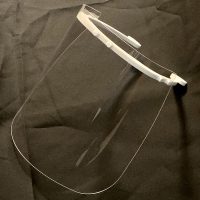 The protective face shield has a PVC Printed frame and 0.02 mm gauge PETG plastic barrier. It is easy to assemble and has a universal fit.
Contains: 100/pk
Estimated time to delivery- 1-2 weeks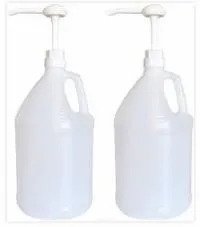 Meets FDA and CDC recommended guidelines under March 2020 FDA Temporary Policy to address the COVID-19 Outbreak.
Civil use Isolation clothing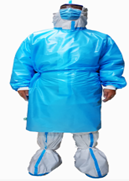 100% polyester fabric with TPU membrane,weight 70g/m2±5gsm
MOQ 20000
Civil use Isolation clothing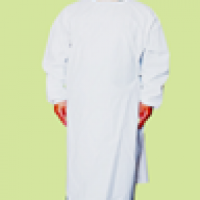 100% polyester fabric with ACPU membrane,weight 65g/m2±5gsm
MOQ 2000

Civil use Isolation clothing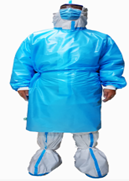 100% polyester fabric with TPU membrane,weight 70g/m2±5gsm
MOQ 2000
26" Angled Financial Transfer Shield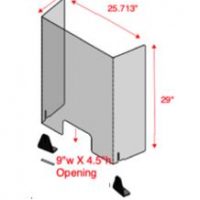 (1) 25.713″ x 8.874″ x 29″ x .177″ Clear Hinged Acrylic Upright Shield (2) 4″ x 4.241″ x 2″ Black Acrylic Stand with Tape MOQ-50
48" Financial DBL Transfer Shield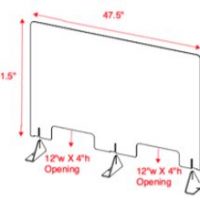 (1) 47.5″ x 31.5″ x .177″ Clear Acrylic Upright Shield with Bottom Cut-Out (3) 7″ x 4″ x 2″ Black Acrylic Stand with Tape MOQ-50
24" Financial Transfer Shield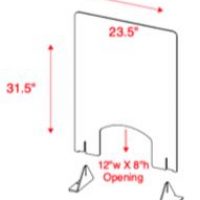 (1) 23.5″ x 31.5″ x .177″ Clear Acrylic Upright Shield with Bottom Cut-Out & (2) 7″ x 4″ x 2″ Black Acrylic Stand with Tape MOQ-50
36" x 36" Retail Transfer Shield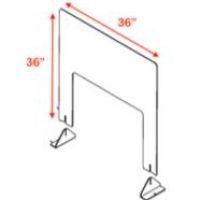 (1) 36″ x 36″ x .177″ Clear Acrylic Upright Shield with Bottom Cut-Out (2) 7″ x 4″ x 2″ Back Acrylic Stand with Tape MOQ-50
32" Financial Transfer Shield Desktop Landscape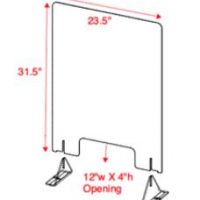 (1) 31.5″ x 23.5″ x .177″ Clear Acrylic Upright Shield with Bottom Cut-Out & (2) 7″ x 4″ x 2″ Black Acrylic Stand with Tape MOQ-50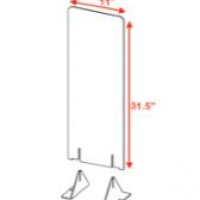 (1) 11″ x 31.5″ x .177″ Clear Acrylic Upright Shield & (2) 7″ x 4″ x 2″ Black Acrylic Stand with Tape MOQ-50
18" Financial Transfer Shield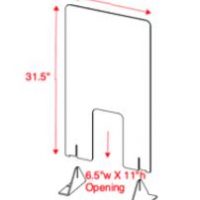 (1) 18″ x 31.5″ x .177″ Clear Acrylic Upright Shield with Bottom Cut-Out & (2) 7″ x 4″ x 2″ Black Acrylic Stand with Tape MOQ-50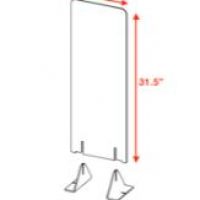 (1) 14″ x 31.5″ x .177″ Clear Acrylic Upright Shield & (2) 7″ x 4″x 2″ Black Acrylic Stand with Tape MOQ-50
Adjustable Corporate Desktop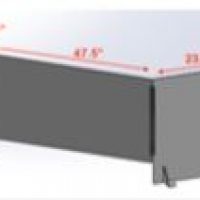 (1) 47.5″ x 23.5″ x Clear Acrylic Front Screen Panel (2) 23.5″ x 29.5″ x Clear Acrylic Wing Panel (2) 7″ x 4″ x 2″ White Acrylic Stand with Tape MOQ-1500
24" Retail Transfer Shield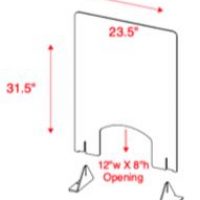 (1) 23.5″ x 31.5″ x .177″ Clear Acrylic Upright Shield with Bottom Cut-Out (2) 7′ x 4″ x 2″ Black Acrylic Stand with Tape MOQ-50
36" x 32" Retail Transfer Shield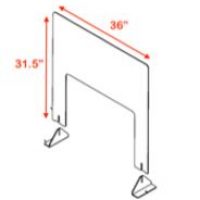 (1) 36″ x 31.5″ x .177″ Clear Acrylic Upright Shield with Bottom Cut-Out (2) 7″ x 4″ x 2″ Black Acrylic Stand with Tape MOQ-50
24" "T" Side Transfer Shield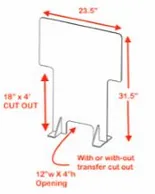 (1) 23.5″ x 31.5″ x .177″ Clear Acrylic Upright Shield with Side Cut-outs (2) 7″ x 4″ x 2″ Black Acrylic Stand with Tape MOQ-50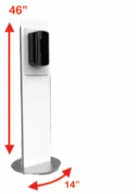 1) 10″ x 46″ x 1″ Powder coated Kiosk Upright (1) 14″ Diameter Powder Coated Steel Base with Feet (2) 10″ x 46″ x .236″ White or Black Acrylic Front//Back Panel (1) 8″ x 14″ Metal Dispenser Mount Panel (1) Hands Free Hand Sanitizer Dispenser
MOQ-50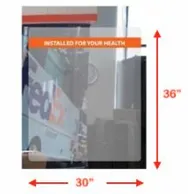 (1) 36″ x 30″ Clear Acrylic Shield with Holes and Radius Corners (1) Hanging Hardware Kit With Crowned Edges MOQ- 50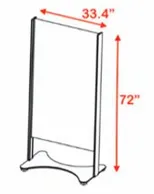 (1) 33.440″ x 60″ x .060″ Clear PETG Shield with Tabs (2) 4″ x 72″ x 3/4″ Black Komatex Side Supports (1) 34 -7/8″ x 23″ x 3/4″ Black Komatex Base  Assembly with Casters MOQ-10
24 x 32 Flush Mount Financial Transaction Shield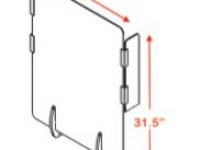 (1) 23.5″ x 31.5″ x .220″ Clear Acrylic Upright Shield (2) 3.5′ x 16.177″ Bent Wing Panel with Tape (4) 3.754″ 90 Degree Panel Former Extrusion (2) 2″ x 7.75″ x .472″ Clear Acrylic Mounting Bracket with Screws (2) 1.25″ x 7.75″ x .472″ Clear Acrylic Mounting Bracket Extension MOQ-250
32 x 48 Flush Mount Financial Transaction Shield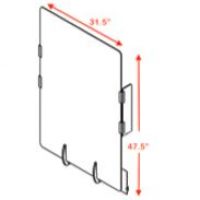 (1) 31.5″ x 47.5″ x .220″ Clear Acrylic Upright Shield (2) 3.5″ x 22.177″ x 1.677″ Bent Wing Panel with Tape (4) 3.75″ 90 Degree Panel Former Extrusion (2) 2″ x 7.75″ x .472″ Clear Acrylic Mounting Bracket with Screws (2) 1.25″ x 7.75″ x .472″ Clear Acrylic Mounting Bracket Extension MOQ-250
24 x 48 Flush Mount Financial Transaction Shield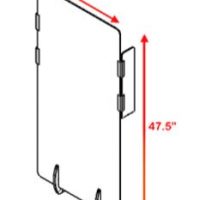 (1) 23.5″ x 47.5″ x .220″ Clear Acrylic Upright Shield (2) 3.5″ x 16.177″ Wing Panel with Tape (4) 3.75″ 90 Degree Panel Former Extrusion (2) 2″ x 7.75″ x .472″ Clear Acrylic Mounting Bracket with Screws (2) 1.25″ x 7.75″ x .472″ Clear Acrylic Mounting Bracket Extension MOQ-250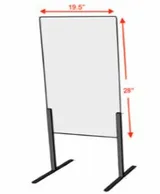 (1) 19.5″ x 28″ x .220 Clear Acrylic Shield (1) Metal Foot- Fixed (1) Metal Foot- Adjustable Crowned Edges MOQ-50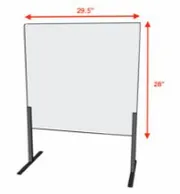 (1) 29.5″ x 28″ x .220″ Clear Acrylic Shield (1) Metal Foot- Fixed (1) Metal Foot- Adjustable Crowned Edges MOQ-50
(1) 34.5″ x 28″ x .220″ Clear Acrylic Shield (1) Metal Foot- Fixed (1) Metal Foot- Adjustable Crowned Edges MOQ-50